$27.99
Garden Grafting Tool Pruner Kit
THIS PRODUCT IS A LIMITED PRODUCTION AND IS NOT AVAILABLE IN STORES. WILL SELL OUT FAST!
Grab your Discounted Garden Grafting Tool Pruner Kit while the store UP TO 50% LAUNCH DISCOUNT is on. This is absolutely a great gift!
Click ADD TO CART to order it!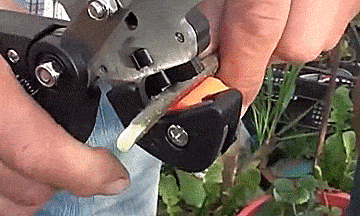 Save time and energy keeping your garden trees neat and tidy with the Gardener's Grafter! Use the pruner to cut out extra branches that stick out like a sore thumb.
Cutting an anastomotic interface with high efficiency, save 40% of the time and energy than traditional grafting methods
3 replaceable grafting cutting blades:  cut, U-cut, and V cut, each blade with two cutter points
Grafting Diameter : 5-14 mm/0.2"-0.55"
Handles are made from ABS plastic, the rest part and blades are made from high-carbon steel, chrome-treated for durable sharp
The package comes with a grafting cutting tool, 3 grafting blades, a screwdriver and a wrench packed in a durable storage bag.
How To Use:
Hold the grafting stock in the grafting tool and squeeze the handle to make the cut, repeat this step to cut from the donor plant. Take care to ensure that the groove is cut in the stock plant.

Slide the donor stem into the groove of the stock plant, matching the cut surfaces as closely as possible.

Place sterilizing material around the joint and bind with tape, which will protect the plant from bacteria and harsh weather conditions.

Use the pruner to cut out dangling branches from the plant.

The grafting tool with the "V & U" blade can be used to cut
Specifications:
Materials: carbon steel, ABS and Aluminum

Cut grafting stocks from 5 mm up to 1.4 cm diameter

Trimming blades 3 mm thick

Phillips screwdriver with red handle

Size 27 cm * 10 cm/10.5 inch * 3.9 inch

(1 cm=0.39 Inches)

A wrench

2 additional blades
Benefits:
Replaceable Blades - Easy to switch out a replace almost instantly. No need to go out and buy another pair of expensive shears. just simply replace the blades and your back in business.
Beginner Friendly - Makes it so easy that almost anyone just starting out looks like a pro in a matter of minutes. After just using this tool in a few simple steps your friends will be asking you who does your gardens!
Durable - Anti-slip design that fits well and comfortable in your hands without putting unwanted pressure on your joints and lowers the risk of cramping.
Package Included:
1*Professional Grafting Tool